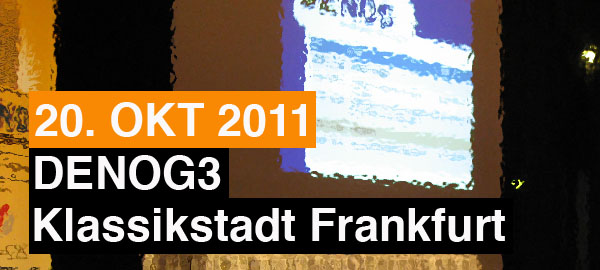 2011-10-24 Slides available
DENOG3 is over, thanks a lot to all sponsors, attendees, presenters and everyone who helped put the meeting together. You can find the slides for the talks on the agenda page.
2011-10-19 Registration closed
Registration for DENOG3 has ended. We are looking forward to seeing everyone registered on October 20th in Frankfurt. Unfortunately we cannot accept registrations at the event itself.
2011-10-08 Agenda completed
Good news, everyone. The complete agenda has been published.
2011-09-26 Agenda published
A first draft of the agenda has been published. You can expect a full agenda in the next days, so check back frequently.
2011-06-19 Call for Papers
For the third time in a row there will be a DENOG Meeting in Frankfurt/Germany, this year on the 20th of October. The meeting venue will be Klassikstadt in Frankfurt Fechenheim. More information and the link to registration will be published on this site during the next weeks and months.