RIPE 84 Pre-Social
DENOG e.V. and BCIX e.V. hereby invite you to a cozy get-together over Berlins rooftops.
In preparation for this years RIPE 84 Meeting from May 16th-20th 2022 DENOG e.V. and BCIX e.V. booked the wonderful Alice rooftop on Sunday, May 15th 2022 and organised drinks and snacks for the international network community. Since space is limited please register below.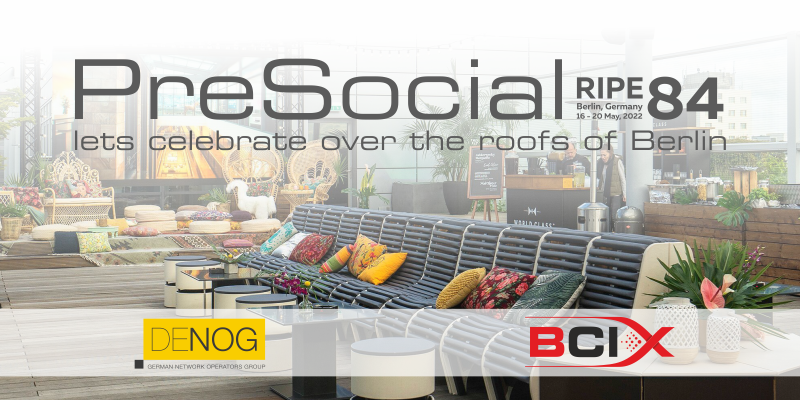 Important Facts
Hosts: DENOG e.V. & BCIX e.V. Time: Sunday, May 15th 2022 from 19:00 to 24:00(CEST, UTC+2) Location: Alice Rooftop, Kantstraße 17, 10623 Berlin Access: 3G (vaccinated, recovered or tested), must be verified with a European QR Code on access.
Registration
Last Minute information
Entrance
Please enter the building via the side entrance in Kantstr. 17, right in between the "Lichthaus Mösch" and "Bang & Olufsen" shops. Once inside follow the signs towards the elevators, we're awaiting you on the rooftop!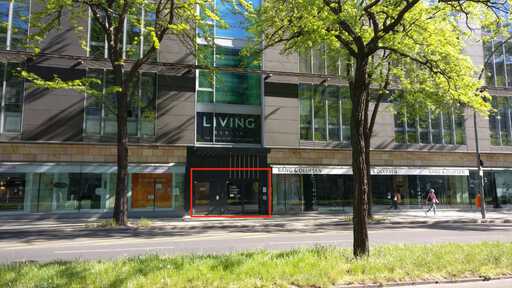 COVID19 regulations
Our event is following the 3G regulations (vaccinated, recovered or tested) which need to be verified with a digital COVID certificate. A list of nearby test centers can be found at the end of this E-Mail. Please understand that we can only accept official QR-Codes!
Check-In
To minimize queue time please keep your tickets ready, you can find it via the link in your confirmation email (Subject: "[RIPE 84 Pre-Social by BCIX e.V. and DENOG e.V.] Your order" from: noreply@denog.de).
COVID19 Test Centers nearby
https://www.covid19center.de/kantstrasse-139/ (Kantstraße 139, 10623 Berlin) https://coronaschnelltest-kudamm.ticket.io/ (Fasanenstraße 16, 10623 Berlin) https://www.covidtestcenter-berlin.de/ (Knesebeckstraße 35, 10623 Berlin)